The 3rd Annual 305 Nationals at Belleville Brings Big Cash and Big Stars Again in 2020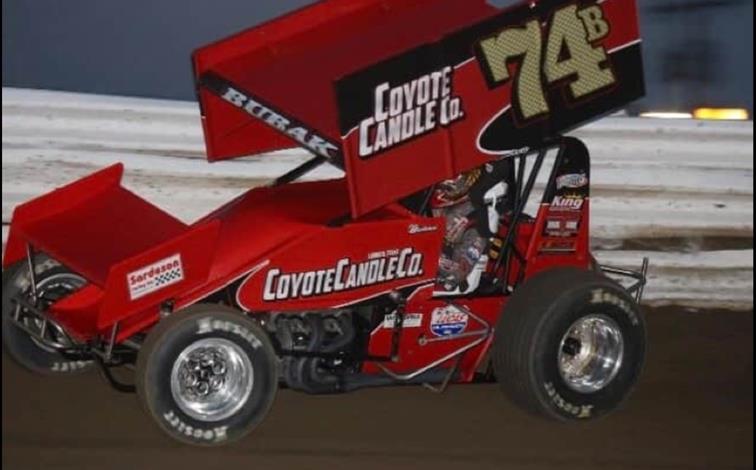 RACINBOYS EXCLUSIVE by Ray Cunningham (Belleville, KS) –The Republic County Fairgrounds in Belleville, Kansas, will once again become the epicenter of 305 Winged Sprint Car Racing this Friday July 31st, and this Saturday, August 1st, at the historic High Banks Half-Mile located in North Central Kansas.
The Brinks Truck will arrive with $65,000 dollars in prize money upfront for both nights total. And another possible two grand dished out if Colorado's Jake Bubak, the 2018-19 Champ can be defeated both nights for the win.
That means, boys and girls, the winner on Friday could take $3,500, with the $1,000 bonus if they beat Jake "Big Stakes" Bubak on Friday, and $8,000 Saturday night by defeating the Arvada racer and winning the title of Belleville 305 Nationals Champ for 2020.
But, that might be easier said than done as Bubak driving the Coyote Candle Maxim #74B has won all four races the first two years of the Nationals.
Included in those totals were two prelim wins that paid $2,500 each and two 305 National wins collecting $7,000 each time for a payout of $19,000 the last two years total at Belleville for the Colorado Gasman.
For the 3rd Annual 305 Nationals, the local Fair Board and Supporters as well as URSS Headman Rick Salem and Dodge City Racing Director Tommie Estes Jr. will all be on board to make this racing weekend one to remember once again while rolling out the Red Carpet for the best drivers in 305 Winged Sprint Cars in 2020.
In 2018, the first annual 305 Nationals took place after the Belleville Midget Nationals were concluded the previous year after a 40 season run. Everyone wondered at that time what was in store for this historic half-mile that had seen the likes of Jeff Gordon, Tony Stewart and Kyle Larson, among others grace and race at this historic speed plant during the midgets reign, while bringing big crowds, big fields, and big money to this sleepy little Kansas town.
Well, all of that has continued and more since the changeover in 2018. Racing with the United Rebel Series, ran by Salem, and with the IMCA RACEsaver 305 Rules, the car counts are bigger, the purse is the richest in 305 Sprint Car Racing, and the crowds have been phenomenal.
In 2020, expect more of the same as around 60 305 Winged Sprint Cars have already entered this prestigious event, with many top drivers on that entry list, and a few others that have also committed to running to make this year's event on paper the best one yet.
Besides Bubak, there are many contenders to his throne that will be in attendance. Among those are URSS point leader Ty Williams, who will be teaming up at Belleville with 360 Winged Sprint Car Star Matt Covington. 2nd in points Goddard hot shoe J.D. Johnson, a favorite and multiple time winner at Belleville. And, third place in URSS points Kyler Johnson of Quinter, whose father C.J., and grandfather Jon Johnson, all starred at Belleville over the years in open wheel racing hailing from Western Kansas.
Another trio of Stars to battle at Belleville includes Tyler Drueke of Eagle, NE, Zach Blurton of Quinter, KS and Stu Snyder of Lincoln, NE. All have been hot in 305 action in 2020 and have won multiple features while running in the top three in IMCA RACEsaver National points. Last year, Drueke finished second at Belleville to Bubak as well in his #12 Winged Sprint Car.
One of the greatest rivalries over the last few years in 305 racing has been between Bubak and Jason Martin, and that will continue once again at the High Banks. The Kansan, now residing in Nebraska, finished second to Bubak in 2018 and third in 2019 at the Belleville 305 Nationals. A month later, Martin would beat his longtime Nemesis Bubak by winning the 305 Nationals at Eagle, Nebraska, Jason's biggest win in 2019 and another epic storyline to this rivalry.
But. as the saying goes, "Wait, There's More". Top stars entering for the first time at the 305 Nationals include John Carney, racing the Lubbers Wreckers 11x, and Nebraska's Jack Dover, two of the most decorated drivers in winged sprint car racing over the last several years.
And Luke Cranston, the winningest driver In 305 competition at Belleville over the years, as well as stalwarts that include Adam Gullion, Trevor Grossenbacher, Jeff Stasa, Mike Woodruff, Ray Seemann, Cody Ledger, Jake Martens, Todd Plemons, Brett Becker, Shayle Bade, Jordan and Tyler Knight, Chad Salem, Tyler Velasquez, and fresh off a win last week at the Bull Ring Nationals, Steven Richardson of Hutchinson, among others.
Come to Belleville, Kansas this Friday and Saturday for the 3rd Annual 305 Nationals, a signature event on the Kansas Prairie not to be missed.
Photo Credit: Darrin McKim