6th Annual Belleville 305 Sprint Nationals Set to Debut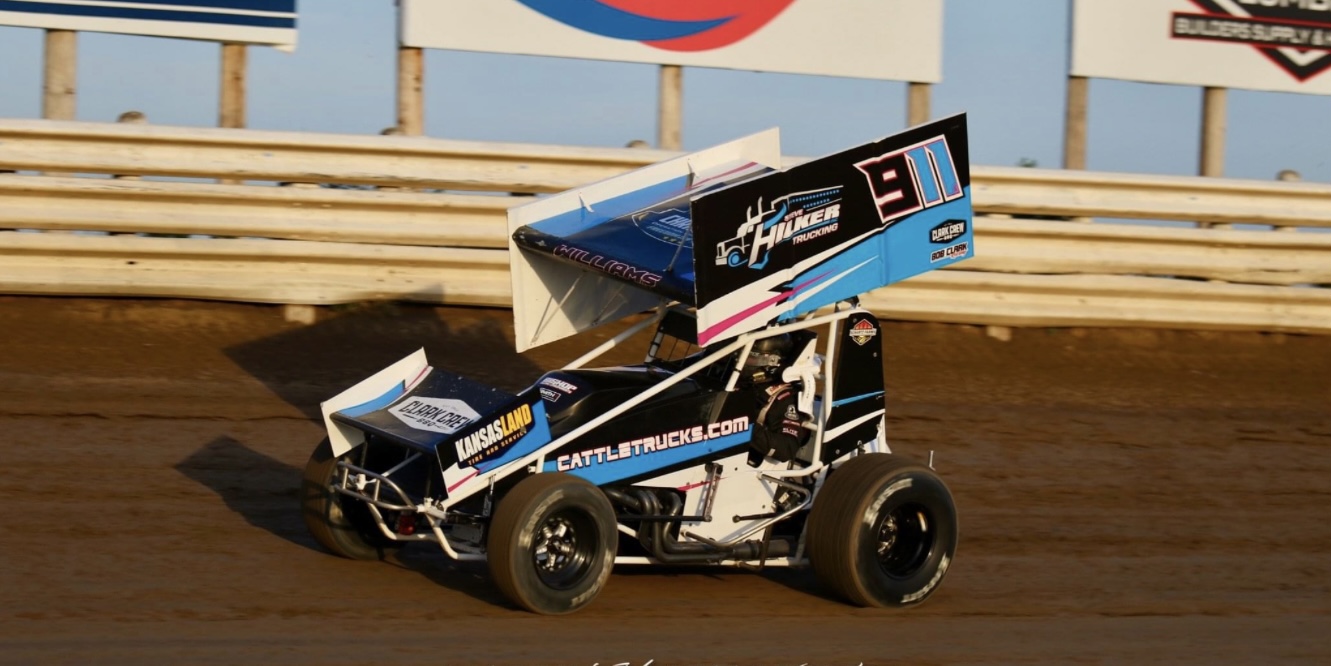 By Ray Cunningham
Belleville, KS:
This Friday night August 4th, and Saturday August 5th, the stars and cars of winged sprint car racing will once again assault the Belleville High Banks for the 6th annual 305 Nationals sponsored by Melton Chevrolet, C&W Farm Supply Inc, and Belleville Hometown Lumber.
The 305 Nationals has become a staple of the NCK Free Fair at the Republic County Fairgrounds in Belleville, Kansas, where the 1/2 mile dirt race track there has taken up residence on hallowed ground since 1910.
Now, a few things have changed over 100 plus years of racing at Belleville, including turning the flat half mile track into a steeply banked one in the early 1930's, and later in that same decade erecting the famous limestone grandstand at the end of the front stretch still in use today.
One element has always remained however, regardless of the decade, or the type of racing machine, exciting, and often hair raising, wheel to wheel high speed action. The kind that has continued on since 2018 with the 305 Nationals, one of the biggest sprint car events in the Heartland each summer.
In 2023, the Nationals, created, and ran by United Rebel 305 Series founder Riick Salem is once again bigger and better than ever before! Two big nights of racing will be featured, as almost 50 brave men and woman have pre-entered from ten states to compete, including South Dakota, Oklahoma, Texas, Nebraska, Indiana, Missouri, Iowa, New Mexico, Colorado, and Kansas.
Bags and Bags of Cash will also be delivered in a Brinks Truck once again to Belleville, as the Fair Board, Supporters, and Sponsors,  have put together a purse of over $70,000 smackers, that includes, $3,000 to win Fridays prelim, and $7,000 to win Saturdays finale. With a minimum of $1,000 for anyone who starts the 24 car championship feature on Saturday. As well as a minimum of $250 for any car that takes a green flag Friday, and $550 Saturday, resulting in any team doing both walking away with at least $800 dollars for their piggy bank.
Some of the top contenders of the 48 cars Pre-entered include the last two champs of the Nationals, 2022 victor Ty Williams of Arcadia, Oklahoma,  running his familiar 911 winged 305. And 2021 nationals champ, and Kansan, Luke Cranston of Holcomb running his 20.
Those stalwarts will be joined by Zach Blurton of Quinter, Kansas, racing his 2J. Blurton, a multi-time champ of the URSS, is the current point leader of the series in 2023 with two victories. Competing at the National's last year, Blurton took 5th place on Saturday night, and won the prelim in 2020. Along with  Salina, Kansas, racer Jon Freeman, a third place finisher behind Williams, and Cranston, last year at the Nationals.
Among others looking for that first win at the National's are two of the most successful without a win in the big one, Tyler Drueke of Eagle. Ne, and fellow Husker, Stu Snyder of Lincoln. Drueke finished second to winner Jake Bubak in 2019 driving his number 12 sprinter at the Nationals. While currently leading both the points at Eagle Raceway, and the IMCA National Standings in 2023. Snyder has been very close to that elusive first win at the 305 Nationals as well, finishing on the podium in both 2020, and 2021, with a 2nd place and a 3rd place run respectively.
Those drivers mentioned have had great success racing at the Belleville 305 Nationals already. But are only a few of the drivers entered from all 10 states that will contend this season at Belleville.
Finally the High Banks 305 Nationals and NCK Fair is a outstanding event due to the  work of many in the greater Belleville Community. While visiting, enjoy racing of course, but also the food, the rides, and the exhibits at the fair, you will be glad you did.
While also remembering to set aside some time to spend at the High Banks Hall of Fame and Museum located just north of the 36 on 81 Highway. Relive the incredible past of racing on the High Banks, while also making new memories at the 6th Annual 305 Nationals.