J.D. Johnson URSS Victory at Belleville High Banks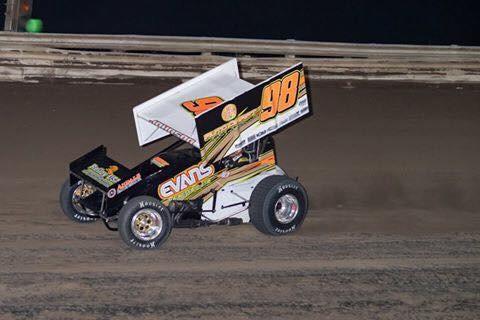 Courtesty of United Rebel Sprint Series
Belleville, Kansas – July 3, 2018 – In the final tune-up for the upcoming 305 Nationals, J.D. Johnson of Wichita, Kansas took the lead at the start and never looked back as he won the special Tuesday night edition of the United Rebel Sprint Series event atop the Belleville High Banks in Belleville, Kansas.
Defending series champion Zach Blurton and Johnson started on the front row for the twenty-lap feature with Blurton jumping out into the lead entering turns one and two. Johnson got a strong run entering turns three and four and took the lead on lap one.
Blurton, Stu Snyder, Jason Martin and Toby Chapman were the top five after lap one with Johnson starting to pull away from the field when the features only caution fell on lap five when the steering broke on Edmond, Oklahoma's Ty Williams #911 sprinter, sending him into the fence. Williams was uninjured and done for the night.
On the restart it was still Johnson up front while Blurton, Snyder, Martin and Chapman the top five as Johnson continued his torrid pace out front. The leader encountered slower traffic at the races midway point but that didn't detour Johnson from claiming his third-career URSS victory and second with the series atop the famed Belleville half-mile.
Zach Blurton would come home second with Snyder finishing third. Martin would settle for fourth while eighth-starting Jake Martens rounded out the top five.
Joey Danley earned the nights Keizer Aluminum Wheels hard-charger of the feature as he moved up six positions to an eighth-place finish.
The three heat races for the twenty-two-car field were won by Williams, Snyder and Blurton.
The "Rebels" will now gear up for a pair of events this weekend, beginning Saturday night, as they will head to the state of Nebraska. It all begins at Lincoln County Raceway in North Platte for the 3rd Annual "Ron Williams/Dick (Snoose) Myers Memorial" that will pay $1500 to win. Then on Sunday night the series will head one hour down I-80 to the Dawson County Raceway in Lexington, Nebraska where $700 awaits that night's feature finale winner.