5th Annual 305 Nationals Brings Prestige, Big Bucks, and Excitement in 2022!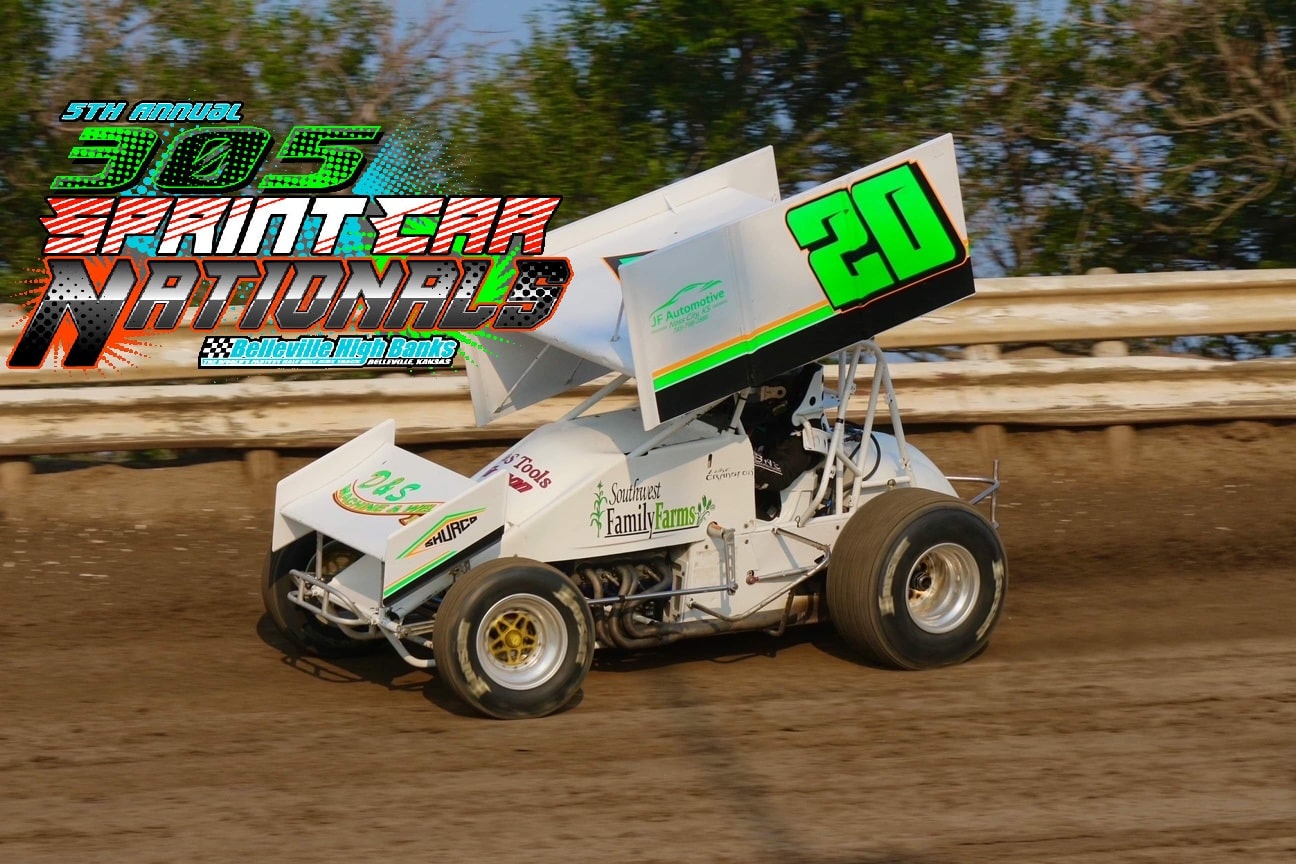 By Ray Cunningham
Belleville, KS:
The 5th annual Belleville 305 Nationals will once again top the charts as the premier event in 305 Winged Sprint Car Racing in 2022!
40 plus snarling, fire-breathing, sprint cars, will take to the worlds fastest high banked dirt track for over 70,000 dollars in prize money this Friday August 5th, and Saturday August 6th, at the Belleville High Banks Half Mile for the richest purse in 305 racing!
The United Rebel Series founded by the legendary Rick Salem will be in charge of this event once again, along with veteran Tommie Estes as the competition director. The cold hard cash available for the 305 nationals will include a top prize of $2,500 for Friday, and $7,000 for Saturday night. While anyone making the 30 lap grand finale for Saturday will take home a minimum of $1,000 dollars. And anyone competing will receive at least $250 Friday night, and $500 Saturday, for a total of $750 just to take the green flag in a race both nights.
Besides greenbacks flowing out of the Republic County Fairgrounds piggy bank, the 305 Nationals will also present a stellar field of competitors once again. Defending champion Luke Cranston of Ness City, Kansas, became the first driver from the Sunflower state to win either the midget nationals (1978-2017) or the 305 Nationals 2018 to present, in a fantastic show of supremacy in 2021, after finishing third in 2020. Cranston will be back to defend his title after also winning the 4th of July weekend race this season in his Maxim Chassis #20 with Myers power at the High Banks.
It will not be a cakewalk by any means for Cranston however as drivers from New Mexico, Texas, South Dakota, Missouri, Nebraska, Iowa, Colorado, Oklahoma, and of course Kansas will be on hand to challenge for the win. Among them Lincoln, Nebraska racer Stu Snyder racing his Jr-1/Myers #5 has been knocking on the door for a nationals win after finishing second to Adam Trimble in 2020, and third in 2021, while also running to a podium finish in the 4th of July event a month ago.
Other stalwarts on hand at the 5th annual Belleville 305 Nationals will include the number #12 JJ/Speedway Engines machine of Tyler Drueke, of Eagle, NE, who was runner up to Cranston at the High Banks in July, and has been one of the top drivers in 305's in the Heartland. As well as Zach Blurton of Quinter, KS, in his #2J Maxim/ Myers, a prelim winner at the High Banks in 2020, and a four time winner in the URSS in 2022. While Steven Richardson driving the #8J from Liberal, KS, the 2022 point leader in the URSS, and a three time winner in the series this season has been stout.
Other Jayhawk state racers scheduled to compete will include second place in URSS points in 2022, Jeremy Huish, Jordan and Tyler Knight, Jon Freeman, Cole Cloud,and 3rd generation racer Chad Salem. As well as Jeff Stasa, Mike Woodruff, Lee Beeson, Aaron Plousard, TJ Cain, Connor Atkinson, and Jed Werner among others. With a Cornhusker contingent that will include Shayle Bade, John Webster, Toby Chapman, Josh Riggins, Cole Vanderheiden, Daniel Nekolite, James Reed, and Gunner Pike.
From the Sooner State Oklahomas Ty Williams in his familiar #911 sprint car will be back again along with Cody Hays and Blake Scott. With Texan Brett Becker making the tow from the Longhorn state once more along with Landon Thompson, Chase Brewer, and Dalton Stead. Out West from New Mexico, Caleb Saiz, and Justin Lasiter, will travel to the High Banks. While from the Rocky Mountain State Colorado driver Todd Plemons a veteran open wheel chauffeur, along with Nick Nichols will represent.
Back in the Heartland, Missouri and Iowa will also be in attendance for the richest race in 305 sprint car racing. Including Show Me State 3rd generation racer Jack Potter, and Gary Gray. While the Hawkeye State flys into Belleville with Madison and Joe Miller, as well as Brandon Bosma and Jake Greenwood. With South Dakotan Dusty Ballenger joining the fray from the Mount Rushmore State.
Another couple surprise entries along the way are to be expected as the Belleville High Banks will once again strut its stuff as one of the premier dirt tracks and events in America. While the addition of the North Central Kansas Fair with all its pageantry, including fresh pies of every imaginable flavor at the Methodist Church booth, and the Prime Rib Dinner at the 4-H Building on Saturday night. As well as the High Banks Hall of Fame and Museum Induction Ceremony on Saturday afternoon, make a trip to Belleville, Kansas, a must for anyone in the area looking for a great time this Friday and Saturday. You will be glad you did!