4th Annual 305 Nationals at Belleville Breaks The Bank Again in 2021!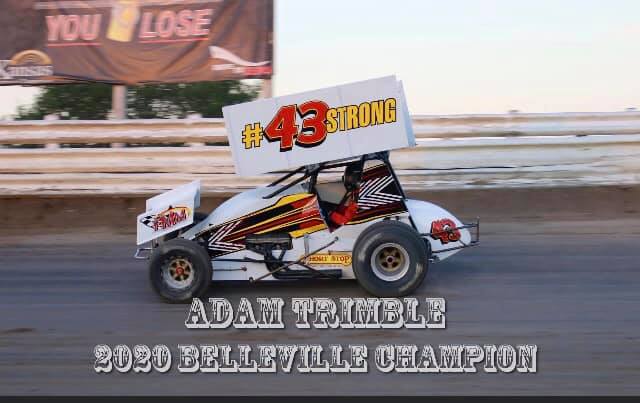 RACINBOYS EXCLUSIVE By Ray Cunningham
Original Article On RacinBoys Here
The Republic County Fairgrounds in Belleville, Kansas, will once again become the epicenter of 305 Winged Sprint Car Racing this Friday August 6th, and this Saturday, August 7th at the historic High Banks Half-Mile located in North Central Kansas.
After surviving a "Topsy Turvy" 3rd Annual 305 Nationals at Belleville in 2020, that included the cancellation of the North Central Kansas Free Fair due to Covid 19 protocols as well as a rainout for the Saturday Night program leading to a Sunday afternoon finale, the 305 Nationals is on track to be the biggest and baddest since the High Banks hosted the first one in 2018!
PHOTO CREDIT: Don Holbrook
Now, first off it needs to be stated that even though the fair didn't take place in 2020 and the finale had to be moved to Sunday afternoon, the racers and the fans turned out in spades for last years event. And, what they witnessed was spectacular!
On Friday night in the prelim, Zach Blurton won to lay down the gauntlet as the favorite for the big one. And then, first year Belleville competitor Adam Trimble took home the $7,000 first prize on Sunday afternoon in a shocking upset over Stu Snyder, Luke Cranston, and Jason Martin, three of the top drivers and cars in 305 winged sprint car racing anywhere on the planet to win the 2020 Nationals.
The victory for Colorado's Trimble was one for the record books as well as he took Ryan Oerter's 2005 Stealth/Spike Chassis with a motor built in a barn by Cris Mueller, a "milk barn" to be specific (hence the nickname for it "Milk Barn Missile") to beat a stellar field. While regular attendees at the High Banks Ryan Boyer of Belleville did the wrap for the sharp looking #43 machine, and racing photographer "Dandy Don" Holbrook of Colorado provided the right rear for the 15 year-old race car for the championship race.
For 2021, the fair will be back after a one year hiatus bigger and better than ever. While Trimble will be back to defend his title in the now 16 year-old car that had to be removed from the High Banks Hall of Fame to race again for this "mom and pop" one car operation out of the Rocky Mountain state that didn't have a back up to it for this year's event.
Speaking of this year's two day show, it will once again pay $2,500 to win Friday's Prelim, and 7 G's to take the big one on Saturday night! The Brinks Truck this year will deliver a whopping $67,000 dollars in total prize money with all sorts of contingency cash and prizes and a minimum of $1,000 smackers to start the Saturday night finale. 24 cars will start the richest event in 305 sprint car racing once again!
Trimble, however, will not be the only one coming to Belleville to take the High Banks bank roll for 2021. Drivers so far from 8 states will be heading to the "Worlds Fastest Half Mile: including Rick Salem's United Rebel Series point leader Ty Williams in his iconic #911 Maxim. Williams. from Arcadia, Oklahoma, has been fast all year long and is coming off a 2nd place finish at Belleville over the 4th of July, racing in the URSS while winning three times in the series in 2021.
Along with Zach Blurton in his #2J Maxim of Quinter, Kansas, Blurton has been one of the best drivers to race for Salem in the history of the URSS 305 winged sprint series. Last year, the "Zach Attack" won the prelim on Friday night. He became the first driver other than Jake Bubak to win a feature at the the Nationals, and was third place at Belleville earlier this year. Blurton is currently second place in the United Rebel Series and recently got his first win in the club in 2021.
While from the "Red Clay" state, Taylor Velasquez of Turpin, Oklahoma, racing his #21x Maxim has won three times in URSS competition in 2021 as well. With Steven Richardson of Liberal in his #8j XXX, and Tyler Knight of Spearville, driving the #11K XXX, both tasted the sweetness of winning in the Kansas based 305 sprint car club this year.
Three Cornhusker racing sensations will also once again attack the High Banks as Jason Martin, in his #5x Eagle Chassis from Crete, Stu Snyder driving the #5 JR-1 out of Lincoln, and Tyler Drueke, racing his J&J #12 winged sprint car out of Eagle. are all serious contenders.
Martin, a former Kansas resident before moving to Nebraska has been one of the top performers over the the first three years of the Nationals, finishing second place in 2018, third place in 2019, and fourth place in 2020. While also winning the 4th of July race earlier this year at Belleville. Stu Snyder finished second place in 2020, and Drueke took runner-up honors in 2019 at the Belleville Nationals.
As good as all those drivers and car combinations are, there are several other contenders competing at Belleville in 2021, making this one of the hardest events in sprint car racing this season to predict a winner.
Among this group of contenders are two of the winningest drivers in Belleville High Banks 305 history, Luke Cranston of Ness City, and J.D. Johnson of Wichita.
Brett Becker of Odessa, Texas, Dusty Ballinger of Harrisburg South Dakota, Jack Potter of Kansas City, Todd Plemons of Arvada, Colorado, Jeff Stasa of Kingman, Chad Salem from Oberlin, Jed Warner of Codell, Kyler Johnson out of Quinter, Jeremy Huish from Jetmore, Jake Martins of Fairview, Oklahoma, Brandon Bosma from Rock Rapids, Iowa, and Richard Wilbee of Las Cruces, New Mexico will all be making a bee line to Belleville!
Plus many more! The 305 Winged Sprint Car Nationals at the Belleville High Banks is once again a must see event at one of America's greatest racing establishments!